Archive for the 'shredding' Category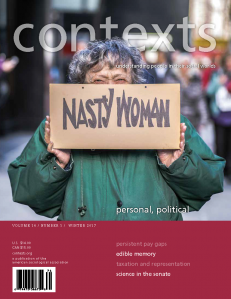 It is my pleasure to announce that Rashawn Ray and I will join Contexts as the new editors in Winter 2018. Contexts: Understanding People in Their Social worlds is the ASA's magazine which brings the cutting edge of sociology to the public. Rashawn and I are humbled by the appointment. A lot of top notch people have edited this journal and we hope to live up to their legacy.
Let me tell you a little bit about Rashawn. I first met Rashawn when he was a graduate student at Indiana University. Immediately, he struck me as a highly intelligent and outgoing person. He begins a conversation with a smile. He is interested in what you have to say and really wants to learn from you. But more than that, he had a real interest in linking sociology to the concerns of everyday life. As time passed, this became clear to me. His research focuses on how social inequality affects health and well being and he is extremely active in getting the sociological vision out there through Facebook, Twitter and public speaking. The right guy for the right job – and associate professors can't say "no!"
So what do we have in mind? First, we want to build on a decade and a half of excellence. Contexts is a magazine that pleases the mind and the eye. It is also an intellectual magazine that offers the public well-grounded but accessible accounts of academic research. Second, we want to really start engaging with the audiences that might enjoy sociological work, whether it be people in the policy world, business, or the arts. Rashawn and I are excited about the possibilities.
50+ chapters of grad skool advice goodness: Grad Skool Rulz ($4.44 – cheap!!!!)/Theory for the Working Sociologist (discount code: ROJAS – 30% off!!)/From Black Power/Party in the Street